Ausangate
The Ausangate Mt ( 6,384 msl ) snow-capped peak is located 100 km southwest of the Cusco region in the Vilcanota mountain range of the Peruvian Andes. it is the fifth highest mountain in Peru.
The hike offers its visitors spectacular mountain scenery , combined with a geography of many contrasts, glaciers and colorful blue lagoons, as well as its picturesque valleys.
A great variety of flora and fauna, including chinchillas, vicuñas, alpacas, the magnificent Andean condor, among other species.
The Ausangate Mountain (6,350 meters/20,833 ft) considered an important sacred deity for the Cosmovision Andina and one of the most favorite trekking destinations in the Cusco area. From pre-Inca times until today, this mountain has been a place of worship and offering an on the way to Ausangate get ready to discover the Magic and the impressive colors of the Rainbow Mountain of Peru, also known as Vinincunca. This great spectacle of nature is located in the vilcanota mountain range, near the highest snow-capped peak in the Cusco region.
This is a full day hike in the Ausangate region. Our journey will start at 4 am. We will
pick you up from your hotel and take a 3-hour drive towards Pacchanta comunity. This
place is one of the towns closest to the Nevado Ausangate, it is located at 4,200 msl, it
is one of the famous towns in the breeding of alpacas (South American camelids), also
a power of traditional crafts made with their own techniques
from the Andes some exclusive to the town
Once in Pacchanta we will enjoy breakfast . All safety protocols will be met in order to
guarantee everybody's health.
After breakfast we will start our hike towards the lakes in the Ausangate region.
The hike will be about 5 hours and will take you along the path where we will see the
different lakes like Azulcocha, Otorongo, Pucacocha, Alqacocha y Q'omercocha. That's
not the only highlight; we will also view the snow covered peaks that surround this
area. These include Ausangate (6834 m.), Mariposa or Butterfly (5842 m.), Jampa
(5500 m.), Pucapunta ( 5740 m), Caracol or Snail mountain (5625 m.), Tinke (5300 m.)
and the whole Qayangate chain of mountains.
We should expect weather to be changeable. from cold temperatures to hot sun
impact. For this reason, we advise you to bring a hat or cap and to use a good
sunblock to avoid any sunburn and headaches.
Along the path we will have the chance to see from different kinds of birds to vicuñas
and llamas, flora and fauna. The views are breathtaking, and you will have the chance
to visit all of the different lakes as you return along the same pathway towards
Pacchanta again. Once there your trekking chef will have lunch ready, you will also be
able to enjoy and relax at the natural hotsprings in Pacchanta. After lunch our
transportation will brings us back to Cusco and towards your hotel.
Meals included: Breakfast and lunch.
Max Elevation: 4.850 meters / 15912 feet
Min Elevation: 4.300 metros / 14107 pies
Approx. distance: 15 km
Tourist private Transportation.
Professional English speaking guide.
Trekking chef.
Breakfast and lunch cooked at the spot
Pick-up and drop-off to your hotel
Weather

We will go over the 4000 meters high elevation (13000 feet). Weather at this elevation
is changeable and known for its cold temperatures, low humidity and lesser oxygen, a
properly acclimating before the hike is recommended.Temperatures during the early
morning and night can go from -10ºC to -5ºC (14ºF to 23ºF.
During the day and with the sun up, these temperatures will increase to 20º to 25ºC
(68º to 77ºF).
---
DIFFICULTY

This is a full day trek involving 15 Km distance. Due to the weather and elevation we
can consider this trek medium difficulty. )
More than the trek itself the increase of elevations is the most challenging part of this
experience. You may also hire a horse for the trekking part if you wish (add.cost)
---
WHAT TO BRING :

– A good pair of trekking shoes
– Comfortable pants and also layers for the upper part of your body.
– A fleece jacket , layers for the upper part of your body A hat or a cap, sunglasses to protect yourself from the sun.
– Sunscreen
– Bathing suit , if you plan to use the hot springs in Pacchanta
– We advise you to bring at least 2 liters of water so we can refill it for you before you start the hike .
Hired horse
Dinner. Personal expenses.
Live New Experiences
4 Things that define 7 Lakes
Dare to live one of the greatest adventure experiences in Peru, get to know the Imposing Nevado Ausangate
Distance
15.000 meters or 15 Km

Max Elevation
4.850 meters / 15912 feet
Temperature
20º to 25ºC (68º to 77ºF)

Difficulty
Regular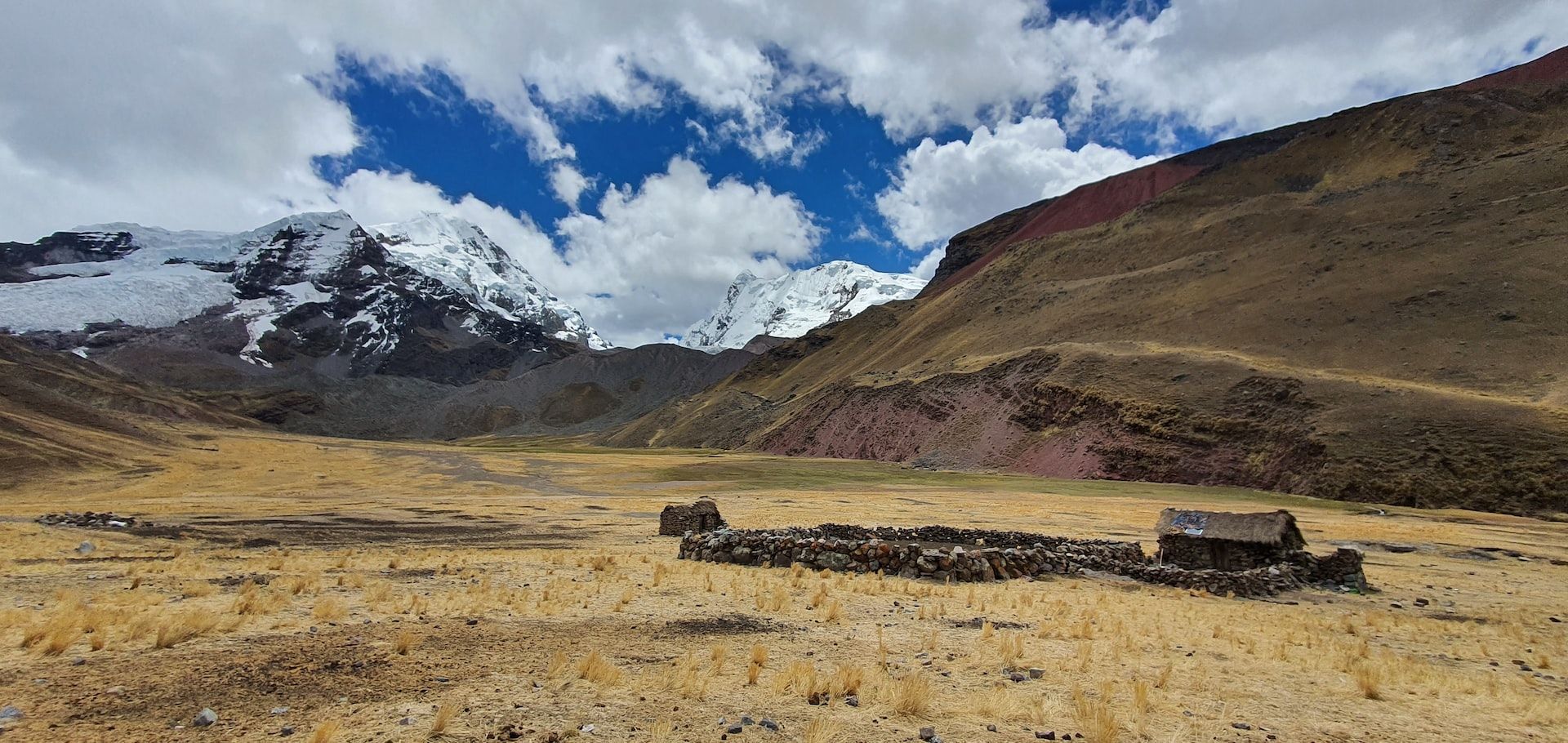 Ready for another Adventure
Our Certifications
We are Certified and Qualified as a Tour Operator company to carry out trekking in Peru.
We have specialized teams for all types of adventure tours.